Kitchen, Bath and Laundry Remodeling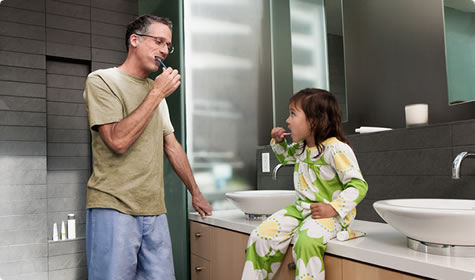 Whether you're planning to overhaul your kitchen, spruce up a bathroom, or turn an old closet into a new laundry room, you can make it green. This overview will get you started, and our related GreenPointers will give you the resources, inspiration and practical advice to get the job done.
Rewards of green remodeling
More than any other area of the home, kitchens and bathrooms undergo the most frequent remodeling. And for good reason—these rooms are subject to a lot of wear and tear. Over time, floors get worn down, cabinets start to look shabby, appliances give out, pipes spring leaks.
In older homes, outdated appliances and failing plumbing systems can drive up energy and water bills. Poor ventilation in kitchens, bathrooms and laundry rooms can make homes uncomfortable and unhealthy. Growing families, aging seniors, and other life changes can also make a bathroom update, kitchen redo or new laundry room a priority.
Whatever your reasons for remodeling, when that time comes, it makes good sense to make it green.
That's because the rewards of green remodeling are real. Green remodeling emphasizes quality construction, beauty, comfort, and health—the health of people as well as the health of the planet. Green remodeling also emphasizes savings—less money spent on energy and water, fewer building materials winding up in landfills, reduced greenhouse gas emissions, and quality construction for a longer lasting home that's less expensive to maintain.
Keep in mind that CALGreen, the State of California's green building code, has established green building requirements for new homes, as well as additions and major alterations. Some of these green building requirements may apply to your remodeling project. Click here for a summary of the CALGreen residential building requirements.
Style, budget and other priorities
Green design doesn't refer to a particular look. It can be modern, transitional, traditional or uniquely your own. But greening your home may involve expanding your priorities. In addition to thinking about style and function, it's also important to focus on reducing waste (be it energy, water or other resources) and making choices that are healthier for your household and for the environment.
It's natural to wonder what it will cost to green your home. The fact is, green home improvements are doable on any budget. If you have a generous budget, you're likely to be delighted by the range of gorgeous green products now available for kitchen and bath remodeling. But don't despair if you can't spare the money for recycled-glass countertops or custom cabinetry made of sustainably harvested wood. Instead, get creative. Maybe you can have new countertops fashioned from pieces of salvaged granite. Or try tracking down vintage cabinets that just need a coat of paint to look as good as new.
If your budget is stretched, keep in mind that you can tackle your green home improvement projects in increments rather than doing it all at once. Maybe this year you can switch to nontoxic cleaning products in your kitchen, bath and laundry, put up a clothesline, and replace old showerheads with low-flow models. Next year might be time for a fresh coat of no-VOC paint in the kitchen and a water-saving, dual-flush toilet in the bathroom that gets the most use.
Each improvement puts you on the path to having a more beautiful, healthy and efficient home.
Kitchen, bathroom and laundry projects
Greening your kitchen, bathroom or laundry area may include some or all of these improvements:
Some of these improvements may not be a priority for your particular situation. That's OK. There are many green upgrade options available to you, whether you're planning to give your bathroom a facelift with a fresh coat of paint and new cabinet doors, or are getting started on creating the kitchen of your dreams.
Universal design
Universal design strives to make buildings more livable for everyone, not just the elderly or disabled. It includes a wide range of accessibility features, from easy-to-use door handles to adequate lighting to zero-step entrances in homes. Some universal design features may allow people to live in their home longer than might otherwise be possible.
During remodeling projects, include as many universal design strategies as possible. Here are some basic recommendations for the kitchen, bath and laundry. 
Install easy-grip lever handles on doors and plumbing fixtures instead of the more difficult knob handles.

Make sure there's good task lighting on work surfaces such as kitchen countertops (see our Lighting and Daylighting GreenPointer).

Locate one bedroom and full bathroom on the lower floor of a multistory home.

Allow a 60-inch turning radius in bathrooms, kitchens and small areas.

Install grab bars in bathrooms, or provide blocking in the bathrooms' wall framing to accommodate grab bars in the future.

Design for a roll-in shower to provide easy access for people in wheelchairs. Also include a built-in seat in the shower.

Design kitchen countertops at different heights, with open space under some of them so a person can prepare meals while seated.

Make kitchen storage areas easy to access, with cabinets that have pull-out shelves and Lazy Susans.

Choose "comfort height" toilets. They have a seat height comparable to a chair and make sitting down and standing up easier.

Choose front-loading clothes washers and dryers, and raise them on platforms so they're easier to access.