Additions and Major Remodeling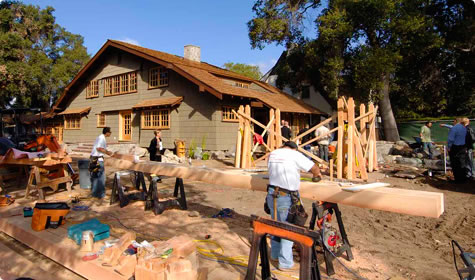 Maybe you're planning to replace a cramped kitchen with a beautiful, open space for cooking, eating and entertaining. Or perhaps you're dreaming of adding a second story to a house that your family has outgrown but that's in a location you love. It's time for a green remodel that will help your family breathe easier.
Major remodeling projects like these can be expensive but are ultimately rewarding. To help keep costs in check, and to get the maximum return from your investment of time and money, make sure to follow green design and construction practices from the very start of the planning process.
Take the time to explore green design alternatives before the work begins. If you wait until construction begins to start thinking about green options, you will likely miss opportunities to save money, curb waste, increase comfort, protect indoor air quality, and improve energy and water efficiency.
With every design choice you make, ask yourself:
How will this choice affect the home's utility bills and maintenance requirements?
What natural resources will be used or wasted as a result of this design decision?
How might this choice affect the health of residents or construction workers?
And then ask yourself: How can I improve this aspect of the design so that it contributes to a healthier environment and a healthier home?
For the big picture on how to tackle a green remodeling project, read the rest of this overview. Then check out our GreenPointers for more detailed tips.
Also keep in mind that CALGreen, the State of California's green building code, has established green building requirements for new homes, as well as additions and major alterations. In many cases, it will be to your benefit to make your home greener, healthier and more energy efficient than what CALGreen requires. CALGreen first went into effect in 2010. Click here for a summary of the CALGreen residential building requirements.
Reduce, reuse, recycle
You've heard of the 3-Rs—reduce, reuse, recycle. In green remodeling, the 3-Rs start at the earliest stages of design by encouraging you to think creatively about how to reduce waste. Design the project so that you reuse as much as possible of the structure, finishes and furnishings. Keep in mind though that sometimes it makes sense to replace items such as electricity-guzzling refrigerators with new energy-saving products.
You can keep usable materials out of landfills by deconstructing instead of demolishing the rooms that will be remodeled. Deconstruction involves manually taking apart and salvaging building materials, trim and fixtures. You can reuse the salvaged materials on the current project, or sell or donate them so that someone else can use them.
The other side of the deconstruction coin is design for deconstruction. How will the decisions you make today affect the ease with which people can deconstruct the home in the future? Materials that are screwed together rather than glued, for example, are easier to dismantle and reuse.
Recycling of construction and demolition waste is a commonsense practice, but don't stop with recycling what you don't need. Close the loop by choosing new materials that have a high recycled content. And find salvaged materials at local salvage stores and demolition sales, or through websites such as www.craigslist.org and www.freecycle.org.
Incorporate passive solar heating and cooling
Although it is easier to incorporate passive solar techniques when building a brand-new home, every remodeling project should also be evaluated to identify passive solar opportunities. The basic approach involves allowing sunlight to enter the space during the winter, yet be blocked during the hottest times of the summer. This is achieved with proper building and window orientation and with exterior shading.
In the winter, the sun's energy is captured and stored during the day in building materials that have high thermal mass, such as concrete, stone or ceramic tile floors. In the evening, those materials radiate their heat to interior spaces, reducing the need to run the heating system.
Passive cooling takes advantage of roof overhangs, awnings or trellises to shade windows from the hot summer sun, and uses materials in the home with a high internal thermal mass to moderate temperature swings. In addition, ventilating the home with cool night air reduces or eliminates the need to turn on your air conditioner.
Here are some basic passive solar heating and cooling strategies:
Consider the orientation of the home or addition at the start of any project. South-facing walls and windows receive the most sunlight. Design roof overhangs for south-facing windows to let sun in during the winter and keep sun out in the summer.
Use thermal mass wall and floor materials to absorb heat and cold.
Incorporate awnings, trellises and deciduous shade trees to limit summertime solar heat gain through south-, east- and west-facing windows.
Design windows and operable skylights to catch prevailing breezes and provide natural ventilation.
Be mindful of U-factors and solar heat gain coefficients. The recommended south-facing window glazing for passive solar buildings is a low U-factor, such as 0.40, and a high solar heat gain coefficient (SHGC), such as 0.65 or higher (see our GreenPointers on Windows for information about window performance characteristics).
Use light exterior colors or paints with reflective pigments, "cool roof" materials and/or radiant barrier roof sheathing to further reduce solar heat gain through exterior surfaces. See our Green Pointers on Roofs for more information.
Insulate the building to a very high level and reduce infiltration so that stored heat won't be lost too quickly.
For more information about passive solar design for homes, visit the U.S. Department of Energy's website, www.energysavers.gov.
Evaluate hazardous materials
Before starting a remodeling project, consider hazardous materials that may be present, such as asbestos, lead-based paint or mold. If you need help identifying or removing problem materials, consult a hazardous materials expert.
Protect soil and plants during construction
A mature existing landscape can add value to your home in more ways than one. Protection of mature existing landscape features can prevent soil erosion, keep the home and surrounding environment cooler in the summer, keep plant waste out of landfills, preserve nature and add value to the property. Healthy soils also help plants thrive, and reduce stormwater runoff and the need for irrigation, fertilizers and pesticides while improving water quality.
Through careful planning and construction practices, topsoil as well as mature trees and other plants can be preserved during remodeling work. Evaluate your remodeling project and your property to determine the feasibility of preserving or relocating mature trees, shrubs and native vegetation. Protect trees and shrubs from construction equipment by placing temporary fencing far beyond their driplines.
Limit and delineate the construction footprint; restrict heavy equipment that compacts soil, including cars, to areas that are or will be paved or built over. Identify areas to be paved as a place to store construction materials and equipment.
Design building additions and outdoor features such as patios to minimize their footprints and to require little or no grading. When grading is unavoidable, stockpile the existing topsoil and re-spread it during final landscape grading. After construction, evaluate the quality of the stockpiled soil, amend it with compost, and re-spread it.
For more information, refer to the resources offered by your regional sustainable landscaping program such as Bay-Friendly Landscaping & Gardening Coalition (www.BayFriendly.org), the Sacramento area's River-Friendly Landscaping (www.riverfriendly.org) or the California Friendly Gardening Guide (www.bewaterwise.com).
Pinpoint comfort and energy efficiency problems
Home performance contractors can run diagnostic tests that search for air leaks and moisture problems and gauge the home's overall energy efficiency. This process can help you identify opportunities for improving comfort, reducing energy bills, and creating a healthier home. It's a good idea to run these tests before and after any major remodeling project. Our GreenPointer on Building Performance will help you get started.
Having your home evaluated by an independent GreenPoint Rater is also a great way to identify and address whole-house opportunities to improve comfort, energy efficiency, water efficiency, indoor air quality and use of green materials. Find out how to have your home GreenPoint Rated.
Choose green products
When evaluating products and processes to use in your remodeling project, here are some important questions to ask yourself and the building professionals you are working with:
Will this product make the home more energy efficient and/or comfortable?
Will this product save water?
Is this product safe when used or after it is installed? Will it offgas harmful chemicals?
Is this product durable so it won't have to be replaced or repaired frequently?
Is this product made from recycled materials?
Is this product manufactured in an environmentally friendly way?
Is this product made locally?
Get paid to green your home
Electric or gas utilities may offer rebates for Energy Star labeled appliances and energy efficiency upgrades, as well as free online energy efficiency surveys of your home. Water districts may offer free leak detection services, free showerheads and faucet aerators, landscaping and water audits, and rebated toilets, dishwashers and clothes washers. For more information, check with your local utility or water district.
Also, Energy Upgrade California is offering limited-time rebates and special incentives available through participating contractors that can save California homeowners thousands of dollars on home energy improvements.